┌
─ Location ───────────────────────────────────────────────────────────────────────────────────────────
┐
Area :
00-09 Site administration
Category :
21 Send and receive
ID :
21.05
└
────────────────────────────────────────────────────────────────────────────────────────────────────────────────────
┘
Communications plan
This plan describes how I communicate updates to the Johnny.Decimal system.
Goals
To respect your time and attention.
To not gather your data unnecessarily.
To give me the confidence that I've communicated important or interesting updates effectively.
Details
Every notable communication is a blog post.
You choose how to be notified about, and consume, that post.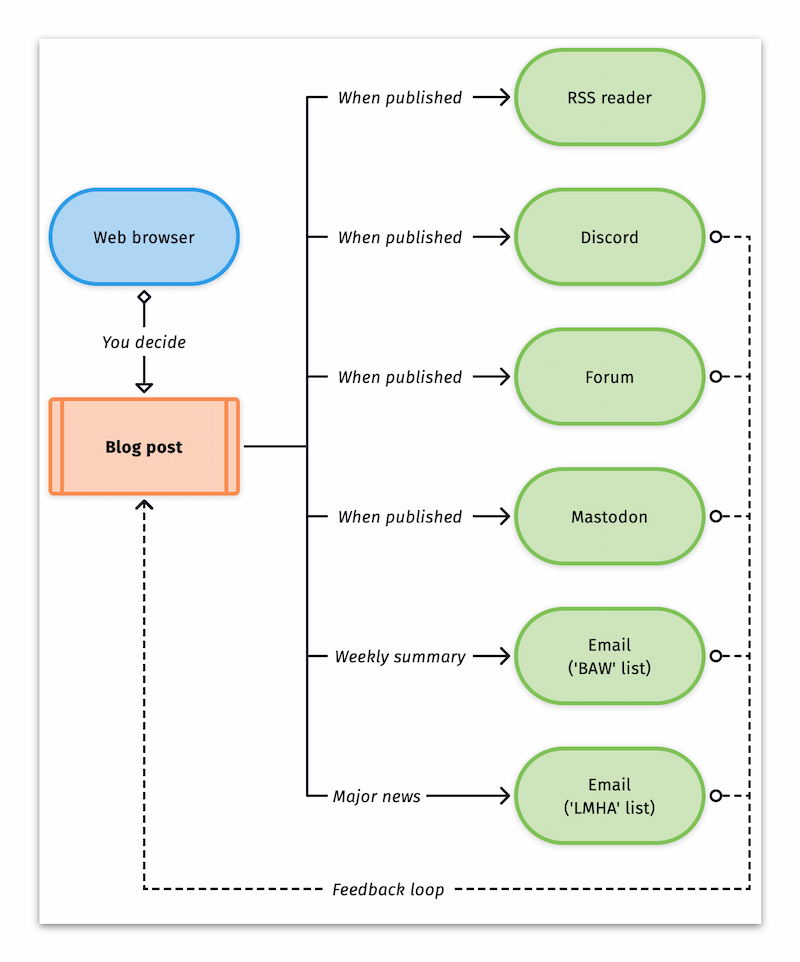 Web browser
Surf the web like it's 1999: you just remember to come to the site occasionally.
blog.johnnydecimal.com or jdcm.al/22.02 are your shortest paths there.
This is a bad strategy. You'll forget.
RSS feed
The site has one. Your reader should discover it.
(If you've no idea what RSS is, it's worth finding out. If you're a Mac user, start with NetNewsWire.)
Discord
I will post a notification in Discord when a new blog post is published.
Forum
I will create a new forum post when a new blog post is published.
Mastodon
I will post on Mastodon when a new blog post is published.
Email: 'I'm bored at work' list
I will email the 'I'm bored at work' mailing list a weekly summary of new blog posts as required.
Email: 'leave me the hell alone' list
I will not email the 'leave me the hell alone' mailing list a weekly summary of new blog posts.
This list will receive 'major news' only. I expect this to be a small handful of emails a year.
All email is also a blog post
I won't ever send an email to the list that isn't a blog post notification.
A consequence of this strategy is that if you subscribe to one of the other channels, there is no additional benefit to being on the email list.
Informal communications
Many of these channels are used informally. They also allow people who aren't me to create content. That's okay, because…
Feedback loop
…if anything comes up in these channels that is important enough to tell everyone about, it becomes a blog post and this communications plan applies.
---
Things that aren't a blog post
This doesn't apply to everything.
For example, I email people directly about the Zoom Q&A sessions that they have indicated that they will attend.
These emails are as-required. When the sessions are over, I'll stop emailing you.
Only explicit permission
I never add your email address to the mailing list just because I have it.
For example, you need to provide an email address to buy the workbook.
I will use this address to tell you when the workbook is updated, but not for anything else.
You don't get added to a mailing list unless you do it yourself.
┌
─ ◁/▶ ───────────────────────────────────────────────────────────────────────────────────────────
┐
└
────────────────────────────────────────────────────────────────────────────────────────────────────────────────────
┘